Maintaining your car's top-notch performance and safety is our priority. Many drivers rely on our Honda service center in Fort Collins to ensure their vehicles are in great shape. Comprehensive vehicle inspections are a fundamental aspect of our auto service commitment, uncovering potential issues that could compromise your car's safety. Addressing these concerns promptly can save you time and money.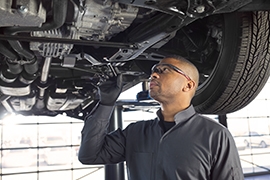 Benefits of Vehicle Inspections near Greeley, CO
Markley Honda offers several advantages for vehicle safety inspections. Our certified service department has a team of seasoned professionals who are well-versed in Honda models and other popular brands. They exclusively use genuine OEM parts for any necessary repairs, ensuring optimal functionality. Trust our Honda technicians to conduct thorough vehicle inspections, evaluating critical components for wear, damage, or potential concerns. If any issues arise, we'll recommend necessary follow-up steps.
Reliable Vehicle Safety Inspections in Fort Collins
Our primary goal is to ensure that your vehicle aligns with safety and performance standards, instilling confidence every time you get behind the wheel. Should your vehicle fall short during an inspection, don't worry. We'll assist you throughout the process, including offering a retest in accordance with local inspection guidelines. If you have any questions about our automotive services or want to schedule a service appointment, we encourage you to reach out!
Markley Honda is a dependable source for all your Honda service needs. We proudly serve drivers in Fort Collins, Greeley, Loveland, Windsor, Boulder, Longmont, and neighboring cities.
Frequently Asked Questions
Q. What is a vehicle inspection?
A vehicle inspection is a thorough evaluation of a vehicle's components, systems, and overall condition to make sure it complies with safety and emissions standards established by regulatory authorities.
Q. What is checked during a vehicle inspection?
Common inspection areas include the suspension, lighting, electrical systems, emissions, brakes, tires, fluid levels, and safety features. The specific items examined may vary, but inspections cover all the features that make it safe to drive.
Q. Why is a vehicle inspection necessary?
Vehicle safety inspections are crucial because they:
Identify potential mechanical issues in the vehicle before they escalate
Confirm that the vehicle adheres to legal requirements and emission standards
Help maintain the vehicle's resale value by demonstrating proper maintenance
Ensure the safety of drivers, passengers, and other road users
Q. When is a vehicle inspection required?
Mandatory vehicle inspections vary by your location. Some areas necessitate annual inspections, while others require them every few years or during ownership transfers. To find out specific requirements, refer to your owner's manual and local regulations.
Some vehicles that don't require an emissions inspection: vehicles that are 7 models years old and newer, all-electric vehicles (hybrid and electrical vehicles are inspected after 7 years).