Packing Your Car For Your Next Music Festival In Colorado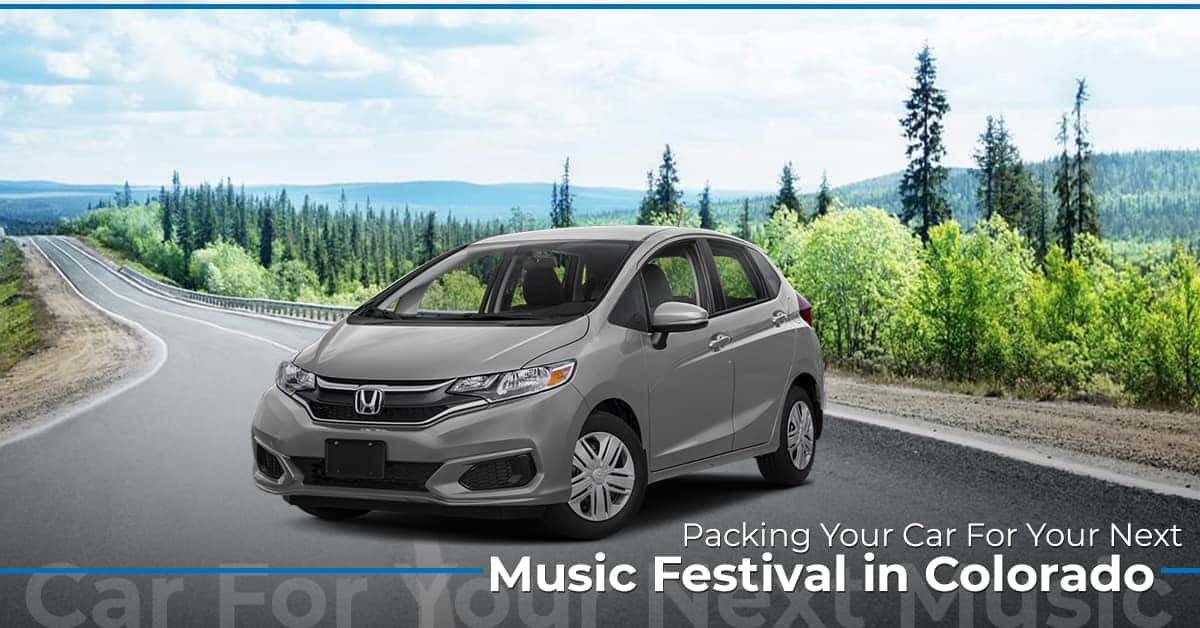 Summer is in full swing, and that means it's time for music festivals! Here in Colorado, we're lucky to have a few different festivals throughout the season, and they all appeal to different genres and audiences. They make for great opportunities for road trips and weekend getaways.
But what should you bring with you? Well, if you're driving a reliable Honda vehicle like the Fit, you're only limited by your imagination and your cargo space. Join Markley Honda as we outline some essentials for your next music festival in Colorado.
Tents and Tarps
For weekend-long festivals, make sure you throw a few tents and tarps in the back of your Honda. You'll want to ensure that your tent has a rain fly so you don't get soaked at night when the weather turns foul. Tarps are useful in a bunch of ways. Hang them high to keep the sun off of you during the day. Lay them on the ground so you have a cleaner workspace for cooking or lounging. Realistically, as long as the tarp is waterproof and has grommets so you can run a cord through it, you can use any size or type of tarp. Hardware stores have large blue tarps for just a few dollars, or if you're looking for something more robust head to a local outdoor gear store and pick up a reusable waterproof tarp.
Camp Furniture
Especially if you're spending one or more nights at the festival, you'll appreciate having a couple of pieces of camp furniture with you. Folding camp chairs are a great way to kick back and relax after a long day listening to your favorite bands. It's easy to spend eight or more hours on your feet when you're at a festival, so having the chance to have a comfy seat that isn't your cooler is a nice treat.
For those looking to keep their energy up for the whole weekend, an inflatable mattress is a necessary part of getting enough sleep. You'd be surprised at how much better you sleep just by elevating yourself up off the ground. Plus, an inflatable mattress does a great job of insulating you from the cold ground, ensuring you don't wake up shivering in the middle of the night. Whatever brand or size you use, just make sure you pack the air pump and a patch kit with you.

Lanterns and Lights
It's not uncommon for music festivals to run late into the night. Having a headlamp is a great way to find your way back to your campsite without having to rely on the light on your phone. Once you're in camp, however, relying on a headlamp to see everything can be a little taxing. That's where having a few camping lanterns come in handy. Not only are they practical, but they're also great for adding a homey touch to your campsite. Many camping lanterns are now solar powered ensuring that you have a ready supply of energy all day long. If you're looking to save space, many brands now offer collapsible or inflatable lanterns that work just as well as their full-size counterparts.
Kitchen Equipment
If you've budgeted to buy every meal at the festival, feel free to ignore this section. However, if you're looking to save some money, bringing your own food and kitchen equipment is a necessary part of the music festival experience.
Some might choose to pack a cooler full of supplies to make sandwiches and other cold meal options. But if you're looking to go all out and really make the most of your meals while you're at a festival, you'll want to bring a two burner stove and plenty of propane. While you're at it, don't forget essentials like pots, pans, spatulas, and spoons. This way you can pack your cooler full of fresh fruits and vegetables, pasta, and other tasty food items to concoct your favorite meals. Make sure you pack your cooler with ice or cold packs in order to keep your food fresh all weekend long. If you don't want to make the trek back to your campsite in the middle of the day, make sure you bring some tupperware with you so you can pack lunch into your daypack at the festival. You'll be surprised at how much money you save by preparing your own meals at music festivals rather than relying on the food vendors.
Electronics
Part of the fun of the music festival experience is to share special moments with friends and family through social media. That means you want to have your phone charged and ready to go at a moments notice. Car chargers might be an obvious solution, but they aren't always practical especially if you're going to be away from your car for most of the day. In cases like these, having a portable battery and a solar charger is a great idea. You'll find that having a portable battery pack does more than just keeping your phone charged as well. You can use it to keep your headlamps, lanterns, and even your Bluetooth speakers powered up.
The Right Clothing and Accessories
Part of the fun of the music festival experience is to wear elaborate costumes or clothing. While this might be a great way to show off your artsy side, it's not always the most practical. If you're looking for ways to stay comfortable, how you dress can make a big impact on that. Consider wearing lightweight and synthetic materials that wick away moisture from your skin and dry quickly ensuring you'll stay warm and dry even after the inevitable mid-festival rain shower. While short sleeves and pants might be more comfortable, they won't do much to keep you from getting sunburned. Wearing lightweight long layers is a great way to keep your skin safe without constantly having to reapply sunscreen.
Along the same line, make sure you are in comfortable shoes. Shoes that are lightweight and waterproof are a great way to keep your feet dry even after trekking through the mud pits that seem to appear at every music Festival. Back at camp, feel free to break out your favorite pair of sandals or flip-flops.
Finally, it's important to remember to pack a personal hygiene kit. Even at the grungiest of festivals, your fellow campers and festival-goers will appreciate it if you take the time to you put on deodorant and brush her teeth. If you're worried about being able to get a good night's sleep, make sure you bring your plugs.

Check Out the Festival-Ready Fit Today
This might sound like a lot to bring to a music festival, but you'd be surprised how much you can bring with you in the Honda Fit. With four different seating modes, you can fit a weekend's worth of festival gear and friends in this compact car.
Looking for a Fit in Fort Collins? Markley Motors is the Front Range's leading provider of used Honda vehicles. We quality pre-owned options, and great financing and leasing options on all of our new models, we're happy to help you find the perfect Honda vehicle for your active Colorado lifestyle. Visit our dealership today to find out more and to see our on-site service center and auto repair shop.