The 5 Best Reasons To Buy A Honda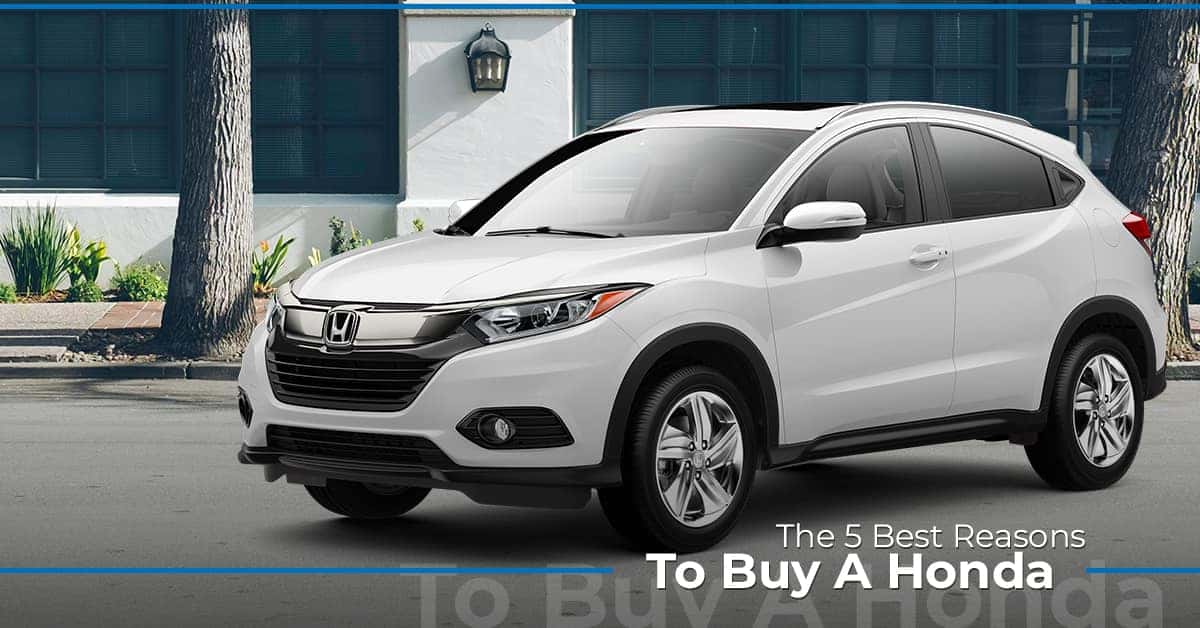 We know that when it comes to buying a new car in Northern Colorado, you've got plenty of options. From American made, to European luxury cars, and everything in between, why would you pick a Honda over anything else? A complex question, with a pretty simple answer. To make a long story short, there are few vehicles better suited to your Colorado lifestyle than a Honda!
Don't believe us? Take a look at the five best reasons to buy a new Honda from Markley Motors in Fort Collins.
#1: Enviable Reliability
We're all looking for a car that will take care of us year after year and mile after mile. Honda has earned a reputation for being one of the most reliable brands on the road. Consumer Reports consistently ranks the entire Honda lineup as some of the most reliable cars, trucks, and SUVs available. It's not uncommon to see hondas from the 70s, 80s, and 90s still on the road, even after many decades and many hundreds of more miles.
#2: Simple Maintenance
Not all of us have the technical skills or know-how to wrench on our own cars, but many of us like to do our own oil changes. You'll be thrilled to find out that Honda's are simple to work on and maintain. Often, you'll find that your car can go thousands of miles between trips to the mechanic. Not only that, but you'll find that repairing or working on your Honda is fairly affordable too. As one of the most common vehicle brands on the road, parts are easy to find and not expensive, even for older models. That means you'll spend more time on the road and less time waiting for your car to be fixed by the mechanic.
#3: Safety is a Priority
Honda knows that the most precious cargo in your vehicle is you and your friends and family. This commitment to safety is made evident by their Top Safety Pick rating by the Insurance Institute for Highway Safety. That's why Honda has made a suite of safety features available for every car, truck, or SUV in their collection. The Honda Safety Sensing Suite® makes use of features like a collision mitigation braking system, road departure mitigation, lane keeping assist, and much more. So whether you're cruising down the highway or simply zipping through town, you can rest assured knowing that your Honda is doing its part in keeping you safe.
#4: Affordability
Buying a car is an investment no matter how much you pay for it. So why not invest your money wisely? Hondas are some of the most affordable vehicles on the road and far exceed their price tag in terms of value. The brand has found ways to keep costs down without sacrificing the quality of their products. This affordable pricing model makes a Honda vehicle accessible for everyone and is one of the reasons that models like the CR-V, Civic, and Accord continue to top "best cars for the money" lists all over the country.
#5: Environmentally Friendly
In an era where environmentally conscious practices are becoming the norm and not the exception, it's nice to know that Honda is already on board. Honda has received a variety of awards for their eco-friendly practices, making them a great choice for those concerned about their impact on the earth.
Their line up also includes a variety of hybrid and natural gas models, like the Accord Hybrid, and the Clarity. These vehicles are some of the most fuel efficient on the road, let alone in the Honda fleet. But these aren't the only vehicles that use gas efficiently. All of Honda's vehicles have great gas mileage, meaning you'll make fewer stops at the gas station, and leave less of a carbon footprint.
Get Your New Honda In Fort Collins Today
Are you convinced yet? For an unrivaled lineup of cars, trucks, or SUVs, a new Honda is a great choice for your busy Colorado lifestyle. At Markley Honda, you'll find attentive sales consultants who want to help you find the right vehicle for your needs. We make it easy to take a new Honda off the lot the same day you test drive it, all thanks to our competitive pricing and extensive financing options.