Quick Tips For Keeping Your Car Clean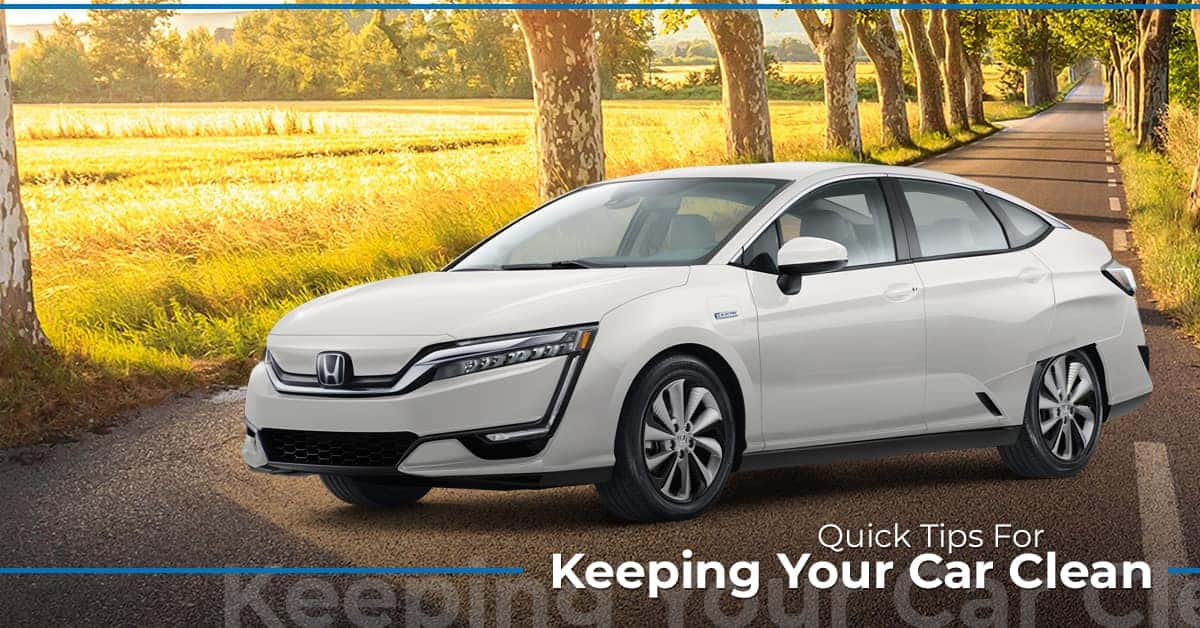 Are you one of those people whose hesitant to offer a ride in your car to your friends? Are you chronically apologizing for the mess in your car? Does your car resemble an archaeological dig site in miniature? Then it's probably time to clean it up. But even if you are pretty diligent about keeping your car clean, you can always do a little more. Here at Markley Honda, we want you to enjoy every minute of your driving experience, so here are some quick tips you can use to help keep your car looking its best.
Why You Should Keep Your Car Clean
We all spend plenty of time in our vehicles; that's why it's important to keep it as clean as you can. A clean car, inside and out, is actually better for your health. By ridding your vehicle of the dirt, grime, and other gradoo that builds up on the seats, mats, and steering wheel, you're getting rid of the bacteria that can leave you feeling sick. Not only that, a clean car is healthy for your social life too, as you won't have to worry about offering a lift to your friends and family and being judged for the state of the interior of your vehicle.
With this in mind, let's look at some ways you can keep your car clean.
Make Use of a Car Trash Can
While you might drive a Ridgeline pickup truck, that doesn't mean you want your vehicle to look like a garbage truck. Don't let trash float about the cabin of your car. Instead, put it in a car trash can. You can use something as simple as a plastic bag tucked into a side panel storage space, or you can use an actual trash can. Some places sell small pop-up trash cans that you can line with an old grocery bag. Others might use a plastic cereal container with a closing lid. These are great for sealing in any smells that might come from your trash.
A car trash can is a great way to concentrate most of the odds and ends that accumulate in your car. Plus, they're easy to clean out. With the trash collected in one spot, you won't find yourself frantically scrambling around your car picking up bits of litter every time a friend needs a ride.
Keep Your Car Organized
We're all guilty of having some things haphazardly stored in the trunks or backs of our vehicles. Jumper cables, cans of fix-a-flat, first aid kits, flashlights, toys, sports equipment, and so many other markers of our daily lives. Rather than let them roll around in the back, clunking into the sides of your car every time you take a turn, take a minute to organize them. There are a variety of car caddies sold that you can use to keep all of these items stored and organized efficiently. Plus, with them boxed up, you can quickly take them out of the car should you need extra space for moving a lot of stuff all at once.
If you don't want to spend money on a car caddy, use a small cardboard box instead. You might also consider using some reusable shopping bags to keep things organized. In either case, having your items stored nicely keeps your car clean.
Keep Your Cup Holders Looking Fresh
It's surprising how fast your cup holders can accumulate dirt and grime. From crumbs to leaky drinks, your cup holders can get funky fast. Fortunately, there's an easy way to clean them out and keep them looking great.
Start by making a solution of water and vinegar. It can be hard to get at the small corners of the cup holder, so soak a few Q-tips in the solution. You can use the cotton swab to get into those nooks and crannies. Once the cup holder is clean, you can line them with cupcake liners. Whether they're reusable silicon, paper, or even aluminum, they can catch all of the leaks and crumbs that invariably build up in your cup holders. When they get full, you can throw them out or clean them and replace them. It's as easy as that!
Keep the Spaces Between Seats Clean
Have you ever dropped your phone down the space between your seat and the center console? How many times have you helplessly watched as a handful of change disappeared into this space? It can be hard to fish objects out from between your seats, but you can make it easier with covers. There are specialty covers that are made from neoprene and filled with foam, allowing you to press them into these spaces to keep things from falling into the void.
For a cheaper, and dual-purpose alternative, roll some towels up and stuff them between your seat and your center console. Not only will it prevent your phone, keys, or wallet from falling into the abyss, but you'll have a quick way to clean up spills and messes should they arrive.
Care For Your Car With Markley Honda
Taking care of your used Honda vehicle is simple when you visit Markley Motors in Fort Collins. We have an on-site service department that makes use of high-quality, factory OEM parts. If you've got a bump in your bodywork or some scratches on your paint, we can take care of it at our auto body shop. Plus, we offer unlimited car washes for as long as you own the vehicle!
Visit us today and experience the Markley Difference for yourself!