Dog-Proofing Your Honda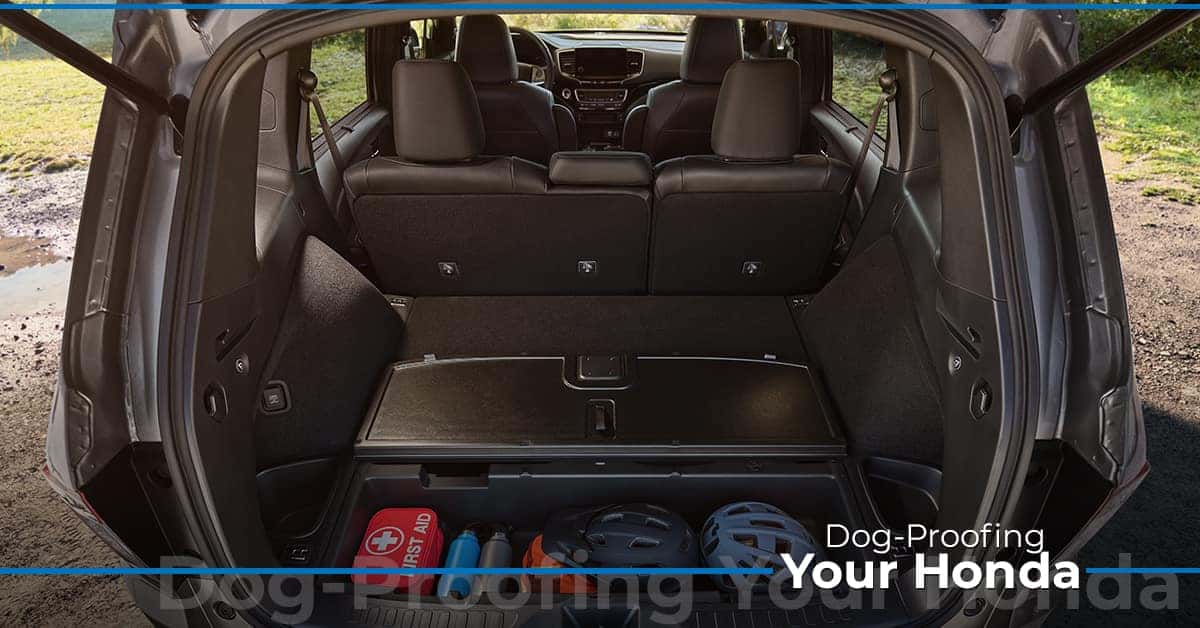 It's clear that Coloradoans love their dogs. A quick trip to any downtown area, whether it's Longmont, Greeley, or Loveland, and you'll see dozens of families out for a stroll with their dog. Of course, to get to these social spaces, your dog will have to travel with you in your car.
But traveling with your dog can be hard on your vehicle, and your pet. To ensure that everyone, whether they use two legs or four, arrives comfortably and safely, your local Honda dealer, Markley Motors in Fort Collins, has put together this quick guide on dog-proofing your Honda.
Start With a Clean Slate
Before you start dog-proofing your Honda, it's best to clean your vehicle inside and out. Make use of a wet-dry vac to clear away stains, built-up pockets of crumbs, dirt, and other debris. Then, bring your Honda in for a free car wash at Markley Honda!
Pick a Dedicated Dog Spot
It's tempting to let your dog roam freely throughout the cabin of your vehicle, but this could be hazardous for you and your furry friend. Instead, designate a spot for your dog. This can be any seat or even a portion of the cargo space. Just make sure it's consistent. That way you only have to dog proof one spot, and your dog will know where to go when it's time for a car ride.
If your dog is nervous about traveling in the car, your best option is to use a crate. This can be set up and left in the cargo space of your vehicle and acts as a comfortable space for your pup. But if our dog loves the view out the windows, you can build out a safe place for them elsewhere. To help your dog get in and out of these spaces, you might consider getting a ramp or small step stool. This is helpful for smaller dogs or senior dogs.
Use a Seat Cover
Whether your dog is riding shotgun or chilling in your cargo area, make sure to use a seat cover. While your car will never be completely free of dog hair, seat covers do a great job of minimizing how much is left in your car after each trip. You can also use an old towel or blanket instead. Make sure your wash this after each trip or at least shake it out at the end of the day.
Protect Your Windows
Many dogs like to press their noses against the window glass as they travel. If you're not thrilled about wiping down windows after each trip, you can put a protective layer over them. There are specialty vinyl shields that can be stuck on to your windows. They're totally clear so your dog can still see out the window. Some are even reusable! But for a quick and easy alternative, you can just put clear plastic wrap. Like the seat cover, these might not keep your windows totally clean but will go a long way in limiting your clean-up time.
Buckle Up
We all click into our seat belts every time we travel in our cars, so your dog should do the same. There are a variety of harness and belt systems that can keep your dog safe. Some systems can integrate into your dog's walking harness. Others make use of a tether that clicks into your existing buckle and belt system in your Honda vehicle.
Securing your dog in this fashion ensures that they can't bolt out the window if they see another dog. It also keeps them out of your lap, limiting any distractions to your driving. Finally, it's a great way to keep them safe in the unfortunate event of an accident.
Pack a Doggy Day Bag
When we travel, be it across town or across Colorado, we usually pack a bag of essentials with us. You do the same for your dog. You can toss these items into a bag or a small box. Consider bringing items like:
A bowl and jug of water

Treats or a small bag of food

Poop bags

Leash, collar, and harness

A towel

A brush and a lint roller
Don't forget your dog's favorite toys. These can help keep them occupied while in the car or when you get to the dog park.
Hit the Road With Your Four-Legged Friend and Honda
Traveling with your dog is always fun. They love to travel as much as you do! Of course, be aware of the weather, and never leave your dog in a hot vehicle.
When you need a vehicle that's got everything you and your dog need, then it's time to visit your local Honda dealer. At Makley Motors, we have one of the largest selections of used vehicles from brands you know and trust. Whether you're looking for a quality pre-owned vehicle or a new one, Markley Honda in Fort Collins is the place to go. Stop by today to meet with a sales consultant, test drive a Honda vehicle and find out more about our financing and leasing options. That's the Markley Difference!